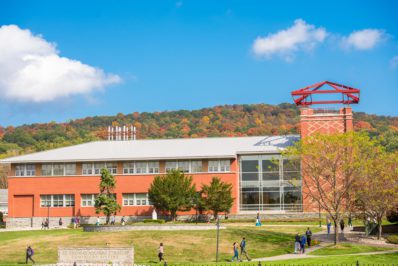 7:00 – 9:00 pm
Campus Tour
Visualize your future with us as a Spartan! The best way to see a college is to walk the path of a student for yourself….
We are grateful for your support.
The St. Thomas Aquinas Sustainers Society is the College's monthly giving program. Alumni and friends who are Sustainers support St. Thomas Aquinas College through recurring gifts by contributing a pre-set amount from their debit or credit card.
Recurring gifts give St. Thomas Aquinas the steady and dependable support the College needs to maintain its mission, sustain operations, enhance programs and student services, and provide much-needed scholarship resources. This type of gift allows a benefactor to spread their contributions over an extended period of time, allowing for a larger gift over manageable installments, thereby, maximizing their impact on St. Thomas Aquinas College and the students we serve.
Thank you for your consideration of becoming a St. Thomas Aquinas College Sustainer!
---
WHY BECOME A ST. THOMAS AQUINAS COLLEGE SUSTAINER
Monthly, ongoing gifts combine the ease of installments with the convenience of automatic renewal.
Support what's important to you, on a schedule that fits your budget and fits your lifestyle.
Once a monthly gift is set up, it will automatically repeat each month, providing a convenient way to spread your contribution over time. You will create a larger impact through your giving by making manageable payments in an amount that's right for you.
Monthly giving saves administrative costs. It is a sustainable giving option because it saves on paper, postage, and eliminates renewal notices in your inbox, voicemail, and mailbox.
Impact of your gift
| MONTHLY GIFT | YEARLY TOTAL |
| --- | --- |
| | |
| $20 | $240 |
| $40 | $480 |
| $60 | $720 |
| $80 | $960 |
| $100 | $1,200 |
| $200 | $2,400 |
BENEFITS OF THE ST. THOMAS AQUINAS COLLEGE SUSTAINERS SOCIETY
Access to special events — yearly cocktail party with President of the College
Preferred pricing to some alumni events.
Special Notation in stewardship report after one year of monthly giving.
Please contact James Errico, at jerrico@stac.edu with questions regarding this program.