Ignite your curiosity. Ignite your imagination.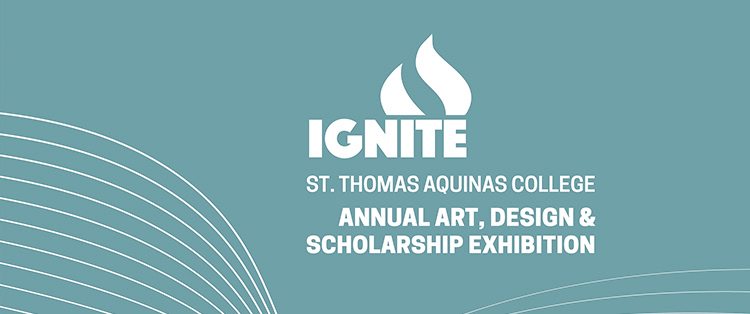 Ignite is a celebration of our undergraduate students, their research, and their creativity as demonstrated in a variety of disciplines across campus. Each year, these presentations showcase the outstanding caliber of our undergraduate students at St. Thomas Aquinas College. We hope that this annual exhibition will ignite a passion for discovery and ingenuity in all of our students for years to come.
The projects also demonstrate the ongoing commitment of our faculty to supporting undergraduate research. As is true of the professors who support them, these students, through their work, hold the potential to contribute positively to the world. Each student who participates in the Ignite program has benefitted from mentoring provided by our exceptional faculty, and we thank the faculty for their efforts on behalf of these students.
IGNITE's participating students will ignite your curiosity with their ingenuity and discovery, and have worked harder than ever to make this a truly memorable experience.
The 8th Annual Ignite Exhibition was held on Thursday, April 27, 2023 in Costello Hall.
For more information on the Ignite program, please contact Nina Bellisio, Professor of Visual Communications.
Previous Ignite Brochures
ADditional Details
REVIEW OF IGNITE ABSTRACTS
The Ignite Review Committee (made up of one individual faculty member from the following divisions: Art, Humanities, Social Sciences, Science, Education, and Business) will be tasked with reviewing abstract submissions for Ignite. Each abstract will be reviewed by the committee using the guidelines outlined below. Each reader will read and rate the abstract using the following criteria:
Strong Recommendation for Acceptance (4)
Recommend Acceptance (3)
Acceptance if space allows (2)
Rejection (1)
Abstracts receiving an average score between 4.0-2.0 will be accepted for Ignite
Abstracts receiving an average score between 1.99-1.50 will be accepted for Ignite if space allows
Abstracts receiving an average score between 1.49-1 will be rejected
RATING GUIDELINES
The major factors considered by the committee for acceptance of abstracts for Ignite include:
The quality of work proposed
The content of the abstract
Adherence to due dates for Ignite registration/abstract submission
GUIDELINES FOR REVIEWING ABSTRACTS THAT DESCRIBE RESEARCH AND SCHOLARSHIP
Abstracts will be evaluated based upon the answers to the following questions. Note that not all questions listed will apply equally well to all abstracts.
Is the abstract clearly written such that all individuals are able to understand the work being performed?
Does the abstract clearly define the purpose of the project (i.e. the theoretical issue or research question being studied)?
Does the abstract clearly state the significance of the work, and how it will contribute to the field of study?
Are the methods, data collection, and analysis clearly defined and well developed (where relevant)?
For an Ignite Lightning Talk: Is the work completed, or does the abstract demonstrate work will be completed in time for Ignite? (Submissions do not require that all work be completed, but the abstract should outline an overall plan of completion for the project).
ABSTRACT REJECTION
Abstracts may be rejected by the Ignite Review Committee for the following reasons:
The abstract does not clearly define the rationale for performing the work being presented.
The abstract lacks sufficient summary of theory, methods, data collected, or results of research being performed. (Note: not all data must be collected at time of abstract submission, however, the abstract should outline the plan for collection and analysis of data leading up to Ignite).
The contents of the abstract significantly overlap with the contents of another abstract submitted by the same author/mentor.
The abstract is poorly written, and uses improper grammar.
The projects on display each year at Ignite demonstrate the ongoing commitment of our faculty to supporting undergraduate research and creativity. Each student greatly benefits from guidance provided by the exceptional faculty at St. Thomas Aquinas College. We strongly encourage faculty to share in this showcase by becoming a faculty mentor, or by inviting their students to attend Ignite each year.
FAQS
What are the responsibilities of a mentor?
Faculty mentors help guide students in performing research or any form of creative work in an independent study course, a designated research course within their academic discipline, or a capstone course within their field of study. We ask mentors to work with their student(s) to ensure the project, and all items associated (abstract, poster, talk, display) are on par with the level (quality, substance, and independence based) at which research or creative work is expected to be in your field of study.
How do I encourage students to present or attend Ignite?
We encourage all students to be apart of Ignite. To help encourage your students to present or attend, the curators of Ignite would be happy to send you "Join Us at Ignite Next Year" cards to share with your students. If you are trying to encourage your advisees or classes to attend, we can provide you with the aforementioned cards as well as provide advanced copies of the printed program of Ignite.
What are my responsibilities as a mentor on the day of Ignite?
We suggest faculty mentors ensure their students arrive on time, and are ready to present the day of Ignite. We also encourage faculty mentors to invite their classes, and academic advisees to attend.
IMPORTANT DATES FOR IGNITE 2023:
Registration/Abstract Due: Monday, March 20th
Email Contact Regarding Committee Decision: Monday, April 3rd
Digital Posters and Elevator Pitches Due: Wednesday, April 19th​
​Ignite: Thursday, April 27th
REGISTRATION INFORMATION
To register for Ignite, students will need the following:
Presentation Format (Poster, Creative Display, Lightning Talk)
Title of your presentation (limited to 100 characters)
Your name and your co-presenters (if any)
Faculty mentor(s) name, and professional title(s)
Abstract (limited to 250 words)
ELIGIBILITY REQUIREMENTS
To present at Ignite, presenters must:
Be an undergraduate student at St. Thomas Aquinas College
Have a faculty mentor at St. Thomas Aquinas College
Be available for no less than two hours on the day of Ignite
Submit all required materials by the designated due date
PRESENTATION FORMAT SPECIFICS
Poster Presentation
The poster presentation is the most popular format for Ignite. Typically, there is one-two hour poster session located on the first and second floor of Costello Hall. Posters are created using the template provided for presenters (which includes the Ignite Logo and Title), and are not to exceed 2' tall X 3' wide in size. If your research is the result of program or external funding sources, include the appropriate logo and acknowledgement on your poster. The final version of your poster should be submitted in PDF format for printing purposes.
Lightning Talks
This will be the first year Lightning Talks are offered as a presentation option at Ignite. Lighting Talks consist of six-five minute long oral presentations with a maximum of three-five slides per presenter, and 25 minutes of conversation and questions. In brief, students should talk for five minutes. In total, six presenters will give their talks in rapid succession, and once all talks are complete, the presenters will move to the front of the room to accept questions. Presentations can be generated using PowerPoint, Prezi, or Google Slides. Given the limited number of lightning talks, not everyone is selected to give a presentation in this format. The Ignite Committee will make the final decision as to who will give a lighting talk each year.
Creative Presentations
Visual Art, Art Therapy, Art Education, and Visual Communications majors who have completed a capstone portfolio may exhibit their work during Ignite. Typically, these presentations are hosted in the Azarian McCullough Art Gallery on the first floor of Costello Hall.
FAQS
Who can present at Ignite?
Students across all disciplines are encouraged to present at Ignite. Typically, students who enrolled in independent study courses, or designated research courses within their academic discipline are invited to present at Ignite. Students in capstone courses are allowed to submit their research projects to the Ignite committee with their instructor's permission.
What if I am not finished with my research?
If your research is incomplete, you are still permitted to present at Ignite. Many students choose to present information about their methodology, research questions, and information they have at the time of the presentation. No matter what stage your work is at, students are invited to present at Ignite.
What happens after I submit my registration?
Once you submit your registration, the Ignite Committee will review your abstract. The Ignite committee will make the final decision whether your work qualifies for Ignite. If selected to present, you will be included on the Ignite presenter email list, and you will be notified of deadlines, and important announcements leading up to Ignite.
Who is a member of the Ignite Committee?
Currently, the Ignite Committee consists of the following members: Professor Nina Bellisio; Associate Professor of Graphic Design and Director of Azarian McCullough Art Gallery, Dr. Craig Martin; Professor of Religious Studies, and Dr. Ryan Wynne; Professor of Biology and Honors Program Director.
How do I write an abstract?
An abstract is a brief summary of the work you are doing for your project. The abstract should not exceed 200 words, and is required for registration. The abstract for a research presentation should include the question being asked, the methodology of studying the question, and how this work will add to the field of study. For creative presentations, the abstract should include a description of the work being highlighted at the event. You are expected to submit your abstract to your faculty mentor for review prior to registration. Based on your mentor's feedback, you are expected to revise your abstract if necessary.
If selected to present, how do I create a poster?
Posters are to be 2' tall X 3' wide in size, and should be generated using the Ignite template provided to presenters. Posters can be made in PowerPoint, Prezi, or Google Slides. Posters will be submitted in PDF format to the curators of Ignite, and the curators will be responsible for printing and hanging your poster in Costello Hall.
What can I expect at my poster presentation?
Although there is no way to predict the number of people who will stop by your poster at Ignite, each student should come prepared with a brief summary of the work they are presenting. It is recommended students practice a 1-3 minute introduction of their research with their friends or mentor to determine what kinds of questions they may be asked at Ignite.
How do I prepare for my lightning talk?
Student lightning talks should be no more than five minutes long and consist of no more than three to five slides. Presentations should be sent to the curators of Ignite by 8am the morning of Ignite. Presentations should be created in PowerPoint, Prezi, or Google Slides. Six presentations will be given in rapid succession, and you are expected to stay as an audience member for all lighting talks. At the end of the talks, the presenters will come to the front of the room and accept questions. The question portion will be 25 minutes in length.
How do I prepare for my creative presentation?
Creative presentations should be set up by 8:30am on the day of Ignite in the Azarian McCullough Art Gallery. Any additional materials (pedestals, tables, monitors, laptops, projectors, computers, power cords, etc.) must be requested by April 1st. Presenters are required to be with their project for 2 hours. Clean up of materials is at 5pm.
What is appropriate attire for Ignite Presenters?
Students presenting at Ignite should wear professional/business attire.
Can I submit more than one abstract for Ignite?
Yes, students are able to submit more than one abstract for Ignite as long as they have a mentor for each project.
I would like to share my pictures I took at Ignite. How should I share these pictures?
Everyone is encouraged to take pictures at Ignite, and share these images on social media using the hashtag #stacignite. All pictures can also be shared on the official STAC Ignite Flickr account.