Honors Program
Admission
Eligibility
Application to the Honors Program is open to new freshmen entering college as full time students in the Fall semester who meet all of the following criteria:
High school average of 91 or above in major subjects at the time of application
Evidence of a rigorous course of study in high school (usually includes honors and/or AP courses)
Evidence of substantial involvement in extra-curricular activities (club membership, volunteer experience, sports, etc.)
Evidence of volunteer work throughout high school and with more than one organization.
THE APPLICATION PROCESS
Applicants to the Honors Program are strongly encouraged to apply early. Completed applications are considered on a rolling basis, and admission to the Honors Program is highly competitive and limited. Students who are interested in being considered for the Honors Program must submit the following to the Admissions Office by November 15th during their senior year of high school for full consideration (applications received after that point will be considered on a rolling basis as the number of spots available in the program dictate):​
A completed admissions application with all supporting documentation (i.e. official high school transcript, SAT scores, etc).
Two letters of recommendation must be included with the admissions application by the high school guidance counselor and a high school faculty member​.
Upon receipt of the completed Honors Program Application, the candidate's complete file will be reviewed by the Honors Program Director. Eligible candidates will then be contacted to set up an interview with the Honors Program of St. Thomas Aquinas College.
What You Get
Honors Scholarship
$27,000 Tuition Scholarship for courses taken at the College as full-time students during the Fall and Spring semesters of four academic years (Pell and TAP may be applied up to the cost of tuition; if the tuition increases, the scholarship amount will increase to remain at approximately 70% of the current tuition rate each academic year). Resident students will receive an additional $3,000 scholarship.
The oppirtunity for summer study at Oxford University are offered to incoming students who have met a level of excellence based on their academic performance.
Academic schedules modified to include special courses taught to Honors Program students by our talented faculty.
Early registration assistance
The ability to participate in co-curricular activities sponsored by the Honors Program.
Transcript and diploma recognition of Honors Program work, as well as medals to be worn as part of their graduation regalia.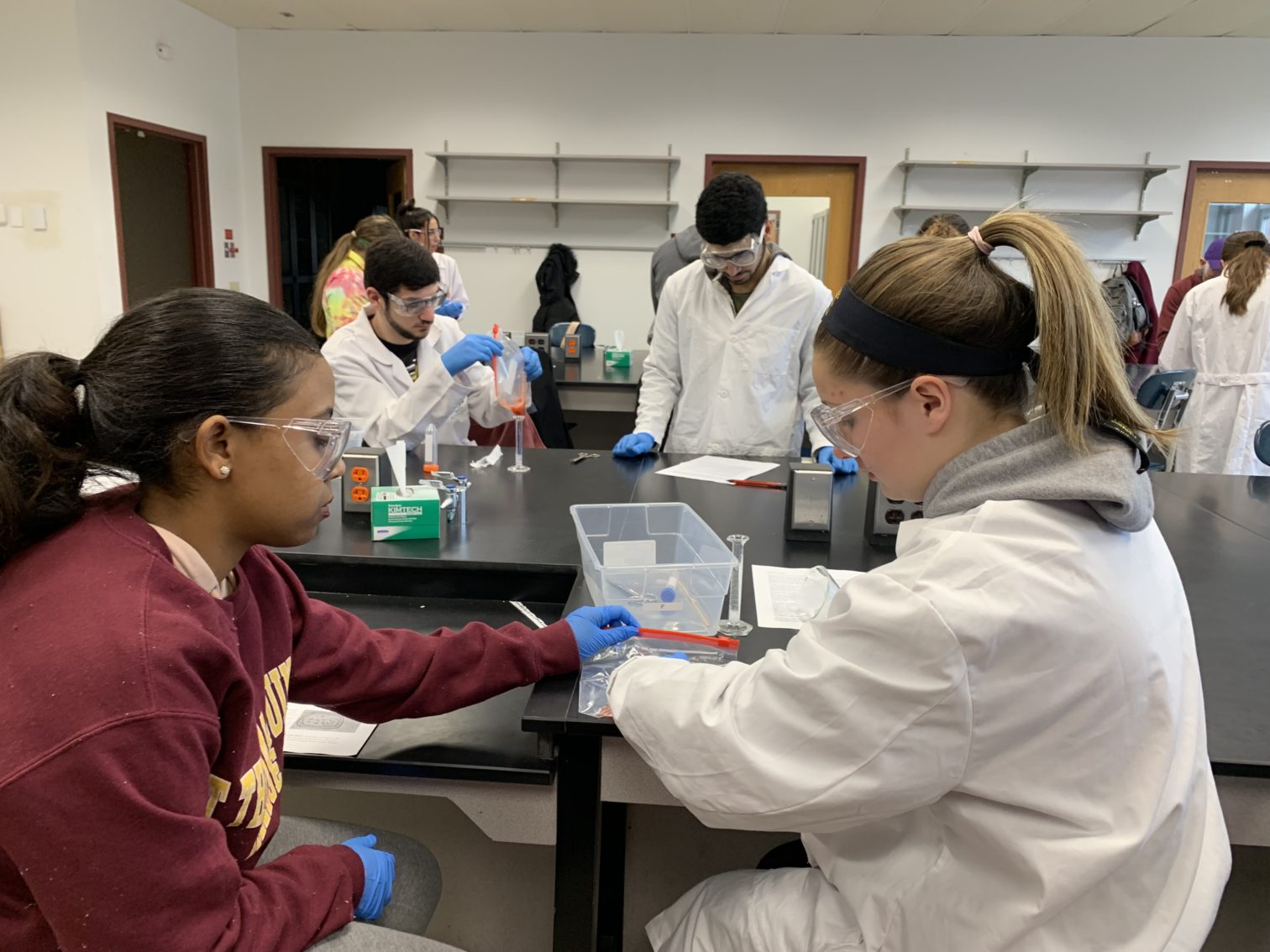 What Success Looks Like
"The St. Thomas Aquinas College Honors Program showed me that I was capable of whatever I put my mind to. I had the best mentors, and was able to thrive in a community that genuinely cared about my well-being."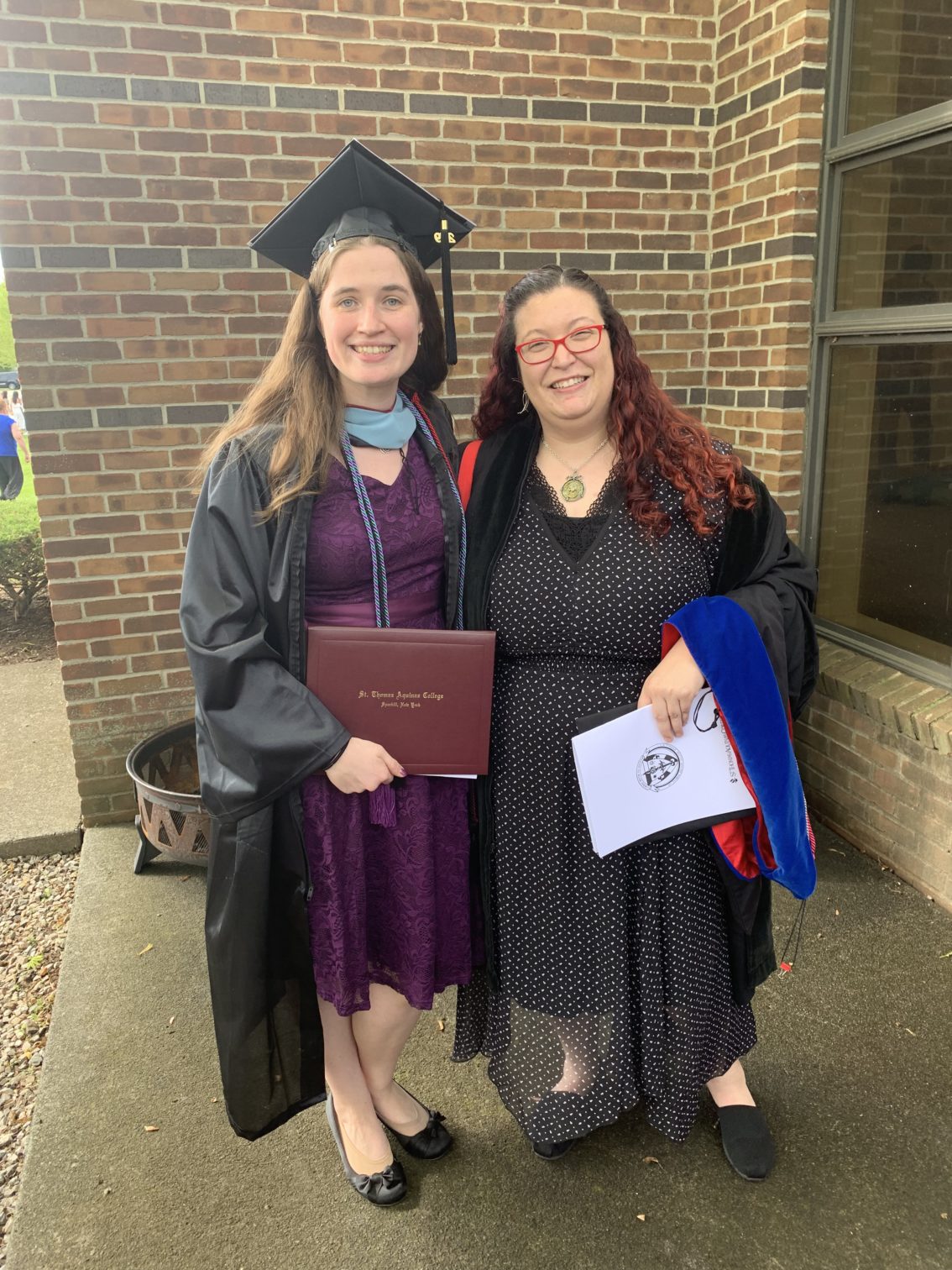 MEET OUR
Program Director
Dr. De Witt is an Associate Professor of Mathematics at St. Thomas Aquinas College, as well as the Director of the Honors Program. Her research interests include applying symmetry principles to swarms, expanding group theory to real-life applications, and looking at data to understand the past and predict the future. She is known on campus for being willing to participate in anything and always has fun with her students. In addition to working with the Honors Program, she is the advisor for the Nerd Club, the Dungeons and Dragons Club, and serves on the Spirit of STAC Action Committee.
Her absolute favorite thing is hanging out with her students. Whether that is while playing D&D, at graduation, or in Oxford, she loves it all! When she is not on campus (which is pretty much never… we are convinced she lives here!) she enjoys hanging out with her cats and playing with LEGOs.