Let's Chat
Imagine the possibilities at St. Thomas Aquinas by attenting one of our Graduate Info Sessions. Offered both in-person and online, these sessions provide comprehensive information about our graduate degree programs, the application process, and the generous financial assistance available to advanced degree students.
Complete this form to get onto our mailing list for Graduate Information Sessions.

Find Financial Support
Children of St. Thomas Aquinas College alumni are eligible for up to $5,000 in scholarship funds toward their graduate degrees. All of the above stipulations apply. Learn more about financial support for graduate students by contacting:
St. Thomas Aquinas is proud to offer undergraduate alumni up to $10,000 in scholarship funds through the 10k Alumni Gratitude discount program. Used to reduce the total cost of your graduate degree, the program only applies to full graduate programs (no certificates). Any vouchers received will count toward the discount. Students in the discount program are ineligible for additional alumni discounts and graduate assistantships.
Learn more about financial support for graduate students by contacting Joy Gallagher.

Joy Gallagher
Assistant Director, Transfer & Graduate Coordinator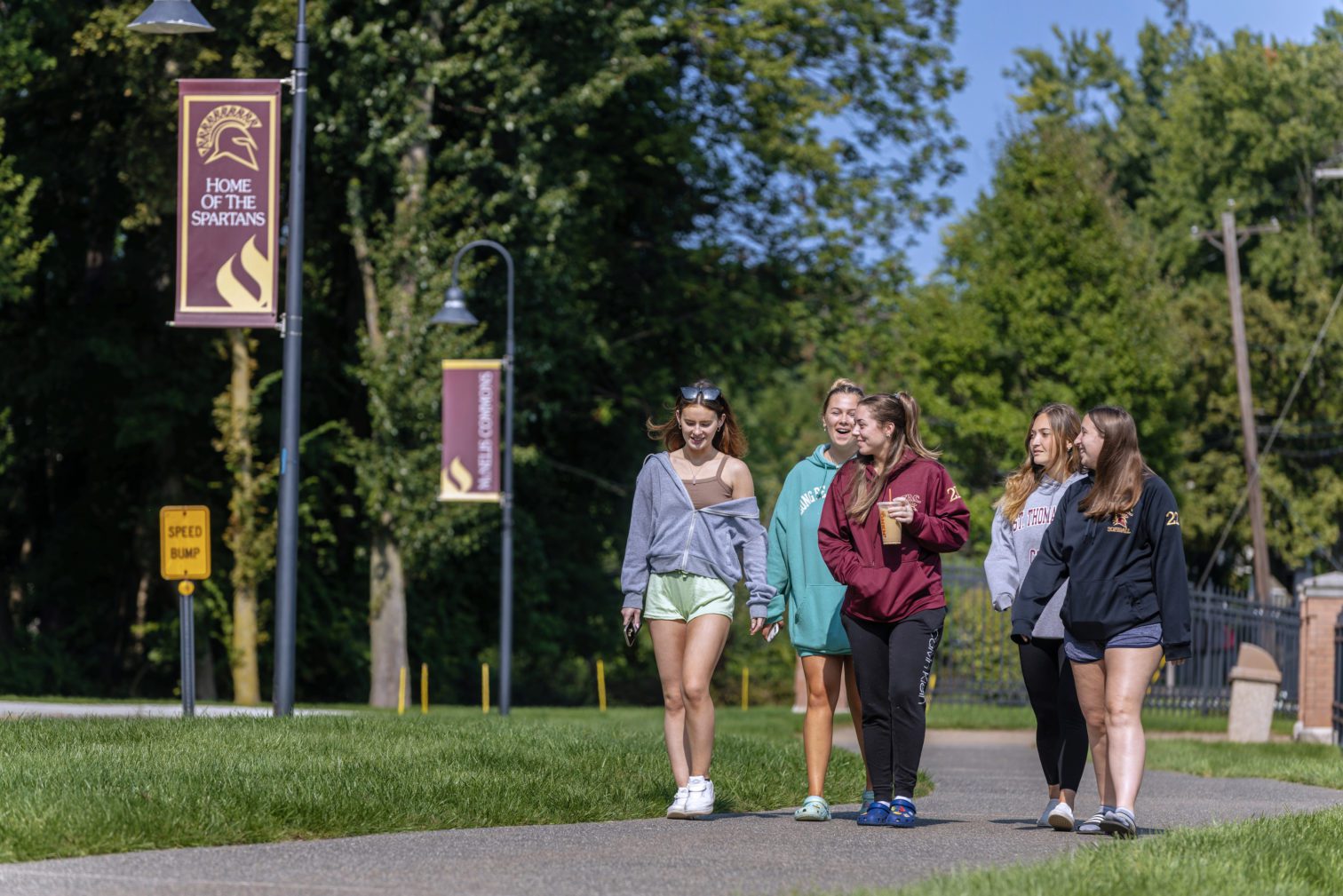 Accelerate Your Education
At St. Thomas Aquinas, students can earn undergraduate and graduate degrees simultaneously. Our Grad Explore Program empowers students to discover which graduate degree is right for them while earning credit for their undergraduate degree program. For students who are confident in their area of interest, the Accelerated Graduate Degree program makes a bachelor's and master's degree possible in just five years.
A master's degree in just
five years
Grad Explore Program
If you're interested in graduate school but unsure which program suits you best, the Grad Explore Program can help you imagine and realize your path. As an undergraduate student, you may take up to four courses (12 credits) in the MBA, MPA-CJ, or MST programs. You will earn credit toward your undergraduate degree (typically Free Electives credits) while exploring your advanced degree opportunities.
GPA

MBA or MST: 3.0
MPA-CJ: 3.2

Undergraduate credits completed:

MBA or MST: 60
MPA-CJ: 75

Completed application
Transcript
Current resume
Two (2) faculty recommendations
Writing sample (if required by your program of interest)
Accelerated Graduate Degree Program
Do you have your sights set on a career path? The Accelerated Graduate Degree Program will guide you through your bachelor's and graduate degrees in just five years, reducing your financial costs and time spent on your education.
Traditional students will spend four years on their bachelor's degree and one year on their graduate degree. Transfer students who enroll with an associate's degree will spend two years completing their undergraduate degrees and three years earning their master's degree.
Students take up to four courses (12 credits) in the program, generally fulfilling their Free Electives undergraduate requirement while earning graduate credit as well.
60 undergraduate credits completed
GPA

MBA or MST: 3.2
MPA-CJ: 3.4

Completed application
Transcript
Current resume
Three (3) faculty recommendations
Writing sample (if required by your program of interest)
Connect with us
Learn more about the graduate programs at St. Thomas Aquinas by contacting: