Biotechnology Minor
Biotechnology is a multibillion-dollar global industry that is projected to grow steadily over the next decade. New technologies—artificial intelligence, genetic engineering, and data analytics and automation—are driving biotech into new frontiers.
This fascinating and innovative field lies at the intersection of science and technology and uses living organisms and biological systems to solve some of the world's greatest challenges. From creating drugs to halt the spread of disease to increasing global food supplies to put an end to poverty, biotech is the way of the future. Ignite your opportunities with a minor in biotechnology and discover how to apply science and technology to change the world.
New Program!
At a glance
Undergraduate minor
19 Credits
Common Majors
Biology
Biochemistry
Chemistry
Forensic Science
Medical Technology
Only at St. Thomas Aquinas College

Ignite Your Career With Experiential Learning
Build your résumé and explore diverse career possibilities through exciting internships, research projects with faculty members, and study abroad experiences. Learn, give back, and have fun by getting involved in your choice of more than 40 student clubs, activities, and community service opportunities.

Career Preparation & Mentoring
Small classes make a big difference to students at St. Thomas Aquinas College. Learn in a supportive academic community of world-class scholars who are set on your success. We will guide you through your college journey and challenge you to reach your full potential so you are prepared to excel in your future career.
Featured Courses
Biochemistry
What is the biochemical basis for human disease? Explore the intersection of the inanimate world of chemistry and the living world of biology in this exciting hands-on lab. Examine the structure and function of all major biomolecules—proteins, carbohydrates, lipids and nucleic acids—and the regulation and organization of metabolic pathways. 
Bioinformatics
Evaluate the many capabilities of bioinformatics through an interdisciplinary lens, focusing on biology and computer science. Learn by doing in this hands-on course that includes projects using web-based programs and computational thinking to solve problems.
Forensic Biology
Discover how to collect and identify biological evidence and learn the essential methods and basic applications of forensic DNA analysis and serology.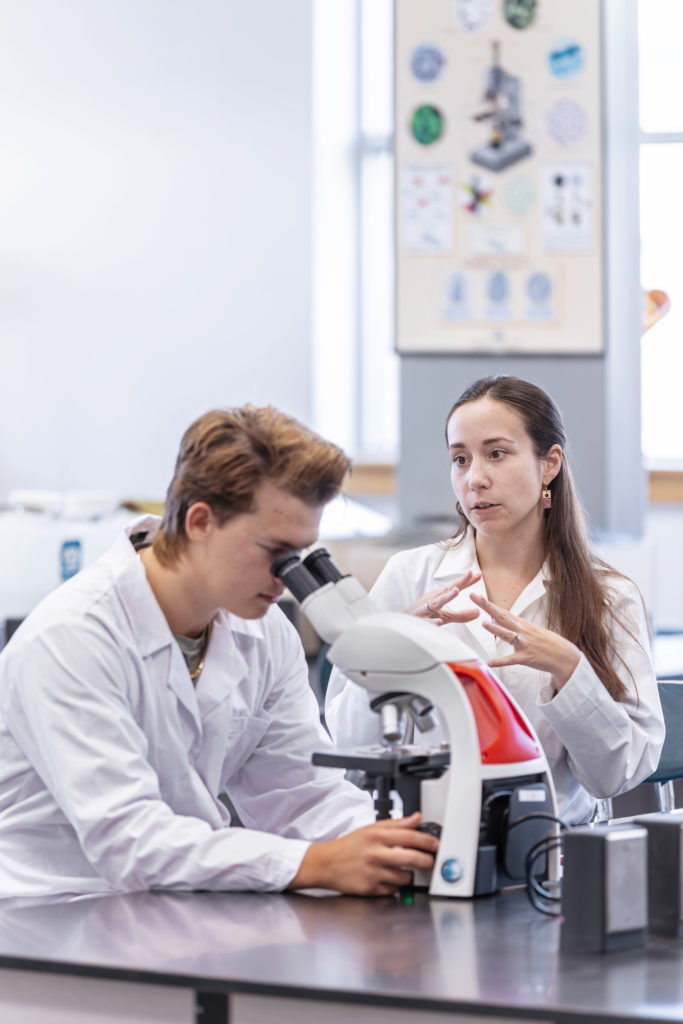 Career Options
A minor in biotechnology prepares students for advanced study and careers in diverse roles, including:
Pharmacy Technician
Clinical Researcher
Biotechnician
Chemical Technician
Zoologist and Wildlife Biologist
Microbiologist
Biomedical Engineer
Agricultural Scientist
Biophysicist