Healthcare Management & Informatics Certificate
Looking to enhance your current skill set and advance your career quickly and efficiently? St. Thomas Aquinas College offers an advanced certificate in Healthcare Management & Informatics which can be completed entirely online.
Our Healthcare Management & Informatics program offers a blend of healthcare management, informatics, finance, health information management, and law and ethics coursework. The health informatics field aims to develop methods and technologies for the acquisition, processing, and study of patient data, which comes from various sources and modalities, including electronic health records, diagnostic test results, and medical scans. Graduates will be able to analyze, interpret, and present healthcare data to healthcare organizations, so that it can be used to develop strategic plans and support organizational compliance.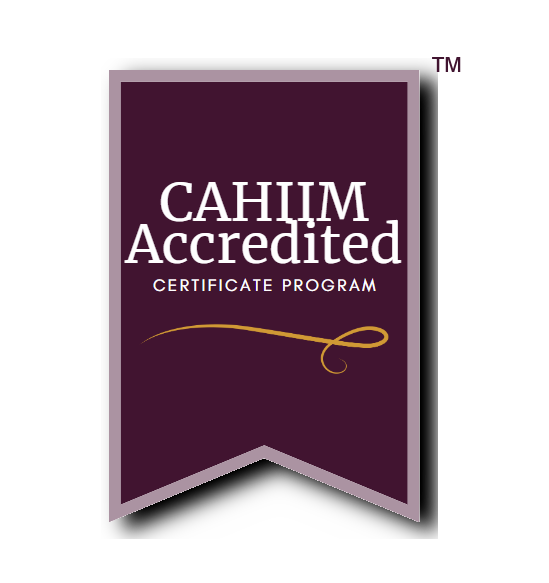 Unique to our program: Students who complete our Advanced Certificate Program/Five Course Completion will receive a CAHIIM Digital Health Leadership Graduate Certificate. You can also be eligible for CHIME Membership and DHL Certification exam.
Only at St. Thomas Aquinas college

Designed With The Working Professional In Mind
Armed with an advanced certificate from St. Thomas Aquinas College, working professionals are able to conquer their career advancement goals and become experts in their field.
Sample Courses
Healthcare Management:
An Introduction to Healthcare Management. The course offers an overview of healthcare system components, services, and management concepts specific to healthcare. The importance of communication and interactions in healthcare management and the management and physical makeup of healthcare organizations.
Healthcare Information Management
This course focuses on the mastery of current technology, legislation, and other key topics in health information management by mapping CAHIIM (Commission on Accreditation for Health Informatics & Health Information Management) standards and curriculum. The course covers electronic health records, patient records, documentation guidelines within the healthcare setting, as well as HIPPA requirements and guidelines.
Healthcare Finance
​This course focuses on how microeconomic principles apply to health care delivery and its policies. The course explores the changing nature of healthcare, the social and political sides of issues, and the future of healthcare delivery and finance as the U.S. transitions from quantity healthcare to quality healthcare. The course will also compare and analyze public health policy from an economic perspective.
Healthcare Informatics
Learn how health information professionals use data and statistics to understand and improve healthcare delivery in clinical settings. Topics will include basic math and statistics, vital statistics and mortality rates, census and occupancy rates, and other key topics required for CAHIIM competency and certification in health informatics.
Healthcare Law & Ethics
This course offers an overview of healthcare business ethics, ethical decision-making, and the impact of social responsibility. The course will prepare students to understand and participate in effective ethical decision-making within healthcare organizations. Through an applied perspective, focusing on the conceptual framework, risks, issues, and dilemmas that will be faced in the real world of business.