MBA: Healthcare Management Informatics
According to the Bureau of Labor and Statistics, employment of medical and health service managers is projected to grow 32 percent from 2020 to 2030, much faster than the average for all occupations. The surging demand for qualified professionals is opening the door to unlimited career opportunities in the healthcare industry and particularly in management and informatics. At the intersection of science and engineering, informatics is an exciting field that involves creating methods and technologies to capture and analyze patient data.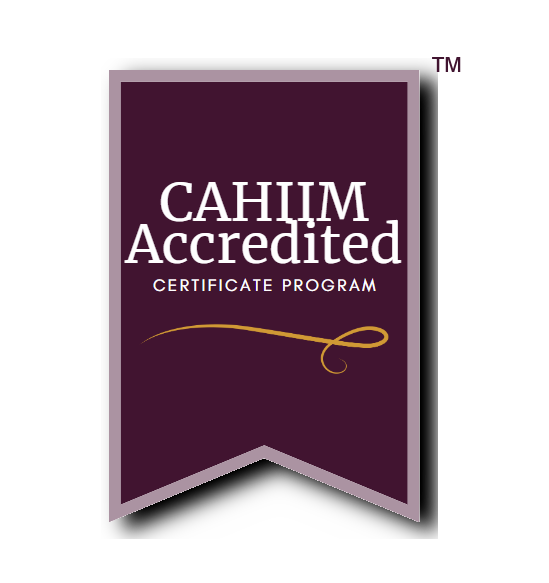 Unique to our program: Our Advanced Certificate Program /Five Course Completion students will receive a CAHIIM Digital Health Leadership Graduate Certificate. You can also be eligible for CHIME Membership and DHL Certification exam.
Ignite your future as a healthcare leader with an MBA from St. Thomas Aquinas College. Our program will equip you with new business intelligence and technical and analytical skills to lead organizations in providing exceptional care and to raise the bar for best practices across the healthcare industry.
New Program!
At a glance
Graduate Program
On-campus and online options available
The only Digital Health Leadership program accredited by (CAHIIM) Commission on Accreditation for Health Informatics & Information Management education in the New York and New Jersey area
Only at St. Thomas Aquinas College

Accreditation by CAHIIM
St. Thomas Aquinas College offers the only Digital Health Leadership program accredited by (CAHIIM) Commission on Accreditation for Health Informatics & Information Management education in the New York and New Jersey area.
Upon completion of the program, our graduates will be awarded a (CAHIIM) Digital Health Leader Certificate (DHL). This prestigious DHL Certificate is recognized by industry healthcare executives and The College of Healthcare Information Executives (CHIME).
The Healthcare Management & Informatics concentration is an American College of Healthcare Executives (ACHE) Higher Education Network member.​

Designed with the Working Professional in Mind
Fulfilling goals. Stepping forward to lead. At St. Thomas Aquinas College, you will find an academic community that energizes you for success, you'll discover new possibilities to advance your career and ignite the passion within to propel you forward.
Our MBA program offers students and busy working professionals the flexibility and convenience of achieving your degree in a way that works best for you. No matter which path you pursue – full-time or part-time, on campus, or fully online in virtual classrooms, you will experience a personalized education with faculty who care.
Featured Courses
Healthcare Management:
An Introduction to Healthcare Management. The course offers an overview of healthcare system components, services, and management concepts specific to healthcare. The importance of communication and interactions in healthcare management and the management and physical makeup of healthcare organizations.
Healthcare Information Management
This course focuses on the mastery of current technology, legislation, and other key topics in health information management by mapping CAHIIM (Commission on Accreditation for Health Informatics & Health Information Management) standards and curriculum. The course covers electronic health records, patient records, documentation guidelines within the healthcare setting, as well as HIPPA requirements and guidelines.
Healthcare Finance
​This course focuses on how microeconomic principles apply to health care delivery and its policies. The course explores the changing nature of healthcare, the social and political sides of issues, and the future of healthcare delivery and finance as the U.S. transitions from quantity healthcare to quality healthcare. The course will also compare and analyze public health policy from an economic perspective.
Healthcare Informatics
Learn how health information professionals use data and statistics to understand and improve healthcare delivery in clinical settings. Topics will include basic math and statistics, vital statistics and mortality rates, census and occupancy rates, and other key topics required for CAHIIM competency and certification in health informatics.
Healthcare Law & Ethics
This course offers an overview of healthcare business ethics, ethical decision-making, and the impact of social responsibility. The course will prepare students to understand and participate in effective ethical decision-making within healthcare organizations. Through an applied perspective, focusing on the conceptual framework, risks, issues, and dilemmas that will be faced in the real world of business.