MBA: Marketing
The world of marketing is evolving at record speed, across every industry around the globe. Emerging technologies now make it possible to communicate messages to millions in milliseconds. Data analytics enable us to analyze the complex mindset of today's consumer and uncover valuable insights on what drives their purchasing decisions.
Whether you're passionate about the psychology of consumer behavior or the latest digital marketing strategies, you will ignite your future with an MBA from St. Thomas Aquinas College. Build your skill set through a curriculum centered on key business essentials, including accounting, management, and finance, as well as the very latest marketing tools and intelligence. Develop your leadership capabilities in interactive research experiences and learn from a distinguished faculty of seasoned professionals with expertise in advertising, consumer products, sports marketing, and more.
Advance in your current profession, shift seamlessly into a new one, or set the foundations to launch an innovative business idea profitably and sustainably. Welcome to the next chapter of your career.
At a glance
Graduate Program
On-campus or online options available
39 credits
YOUR way to an MBA

Designed With The Working Professional In Mind
Fulfilling goals. Stepping forward to lead. At St. Thomas Aquinas College, you will find an academic community that energizes you for success, you'll discover new possibilities to advance your career and ignite the passion within to propel you forward.
Our MBA program offers students and busy working professionals the flexibility and convenience of achieving their degrees in a way that works best for them. No matter which path you pursue – full-time or part-time, on campus, or fully online in virtual classrooms, you will experience a personalized education with faculty who care.
Featured Courses
Digital Marketing
A mix of strategic and tactical practice, this course explores the latest digital advertising strategies and marketing theories. Acquire the knowledge and skills to enhance your organization's marketing program through advanced social media tools, search engine optimization (SEO), marketing analytics, and website design.
Product Management & New Product Development
What does it take to launch and market a new product? This course covers it all, from planning and executing an effective marketing strategy to understanding product life cycles and the influence of markets and technology on new product success.
Consumer Behavior
Consumers and influences upon their behavior as they search to find products and services to fulfill their needs and wants in the decision making process. An examination of socioeconomic variables, positioning, market segmentation, and ethics as it applies to the implementation of various research methods. The influence of political, legal, social, economic, and technological environments on the consumer and the marketer. Students will demonstrate acquired knowledge by introducing a product/service to a consumer behavior model.
FREQUENTLY ASKED QUESTIONS
No. Our MBA program is designed to accommodate the academic needs of working professionals with undergraduate degrees in areas outside of business as well as graduates of business programs. STAC's MBA program includes a series of 7 or 9 core courses that provide graduates of all disciplines with the academic foundation in business that they will need to successfully complete their MBA.
The MBA degree requires a total of 39 credits, Full time students may complete the program in five MBA sessions. However, the majority of the students are working professionals who take about a year and a half to complete the program.
A maximum of 6 graduate transfer credits may be accepted for courses comparable to a STAC course.
Sessions begin in September, December, March and June. First time students can start the program in any session.
There are four sessions per year and each session is for nine weeks. Campus-based courses meet once per weekend on Friday evening from 6:00 PM until 10:25 PM and Saturday or Sunday morning from 8:30 AM until 12:55 PM. Online courses follow a quarterly schedule in a virtual classroom setting. Online course assignment due dates/times are determined by the professor.
No. Applicants who meet the criteria for regular admission do not need the GMAT.
What Success Looks Like
"St. Thomas Aquinas College gave me the opportunity to take courses that interested me. During my undergraduate studies, I really enjoyed studying marketing which led me to continue my education in their MBA program. My professors helped me prepare for what the working world would be like through hands-on assignments."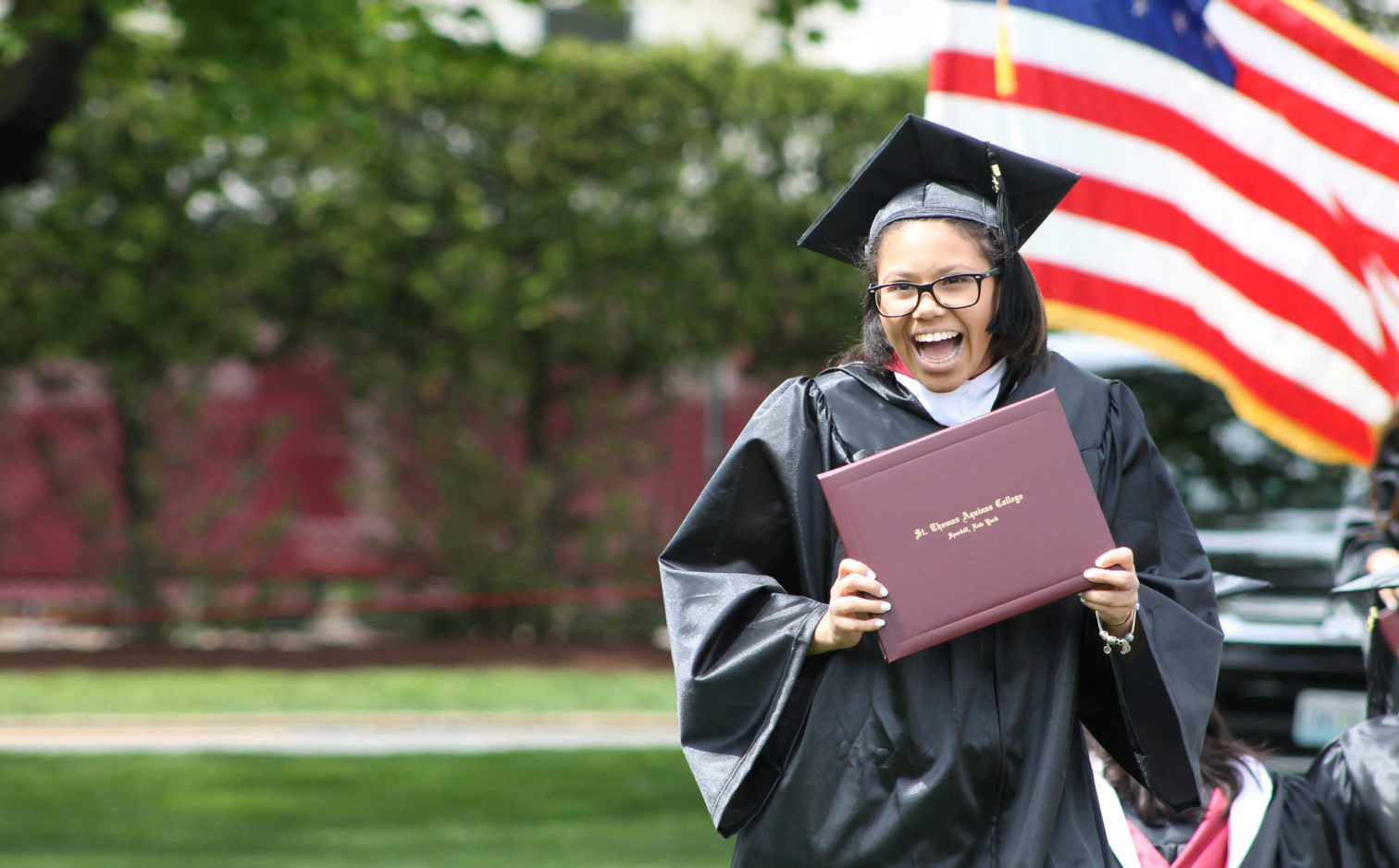 Career Options
Our graduates work in a diverse range of fields, including these and more:
Broadcast Media
Brand Management
Corporate Sales
Digital Marketing
Entertainment
Financial Services
Luxury Brands
Market Research
Nonprofits
Public Relations
Product Management
Sales Management
Sports Marketing
Program options
Ignite your future by earning your MBA degree in as little as one year. Incoming undergraduates have the option of taking 12 credits in advance and applying them toward the program.
In addition to Marketing, STAC offers MBA concentrations in Finance, Healthcare Management & Informatics, Management, and Sport Administration as well as a General MBA program.