Art Therapy
Art is a powerful tool that can be a life-changing form of therapy for people experiencing physical, emotional, or cognitive challenges. Creating art is a fun and positive way to express feelings, manage behavior, reduce anxiety and depression, and build self-esteem. If you are artistic and love helping others, art therapy is a rewarding career that could be the perfect choice for you.
Ignite your creativity in the art therapy program at St. Thomas Aquinas College. The curriculum features courses in human development, psychology, fine art, and art therapy field placements offer exciting opportunities to apply your knowledge and skills in real-world settings. Many of our students earn preferred placement in highly selective graduate programs in art therapy, counseling, social work, and other healthcare professions.
Join our creative and supportive academic community, learn from a faculty of exceptional practitioners, and develop the skills you'll need to make a meaningful difference in the lives of others as an art therapist or paraprofessional.
At a glance
Undergraduate major & minor
BA
4 years
Main campus
Common Minors
Psychology
Therapeutic Recreation
Visual Art
Only at St. Thomas Aquinas College

Ignite Your Career With Experiential Learning
Art therapy students have many opportunities to build their resumes and gain field experience working with different populations in a wide variety of internships. Learn, give back, and have fun in our active art therapy club that hosts activities, including special events for local charities.

Career Preparation & Mentoring
Small classes make a big difference to students at St. Thomas Aquinas College. Develop strong relationships with faculty-mentors throughout your college years and beyond. As experienced practitioners, we will guide you in achieving your full potential and prepare you to successfully advance into a graduate program or begin your new career.
Featured Courses
Art as Therapy
Get an inside look at art therapy as a profession. This course examines art as an alternative to verbal expression and explores how it is applied in the treatment setting. Through different creative projects, you will see for yourself how art can provide a pathway to greater self-awareness and healing.
Applications of Art Therapy
Explore effective techniques, materials, and approaches that art therapists may use with specific populations. Observe professionals in the field as they work their magic in real time. This course combines classroom learning with visits to local care centers, such as: Music for Life – a creative arts therapy program for people with developmental challenges, Bristal Assisted Living Program, the Living Museum at Rockland Psychiatric Center, and Maria Fareri Children's Hospital.
Internship in Therapeutic Art
Choose from a long list of field placements for your 120-hour capstone internship—working with children, teens, the elderly, people with emotional challenges, the medically challenged, or people on the autistic spectrum. Gain valuable feedback and guidance from your personal advisor, a practicing art therapist or other approved clinicians. Build the foundation for your future career.
What Success Looks Like
"St. Thomas Aquinas College has impacted me both personally and professionally. I explored my artistic abilities through fine art courses and learned about psychological theory and the creative process in art therapy, human development and psychology courses. I am proud to be a Licensed Creative Art Therapist and Mental Health Counselor working as a clinician in a private practice setting with children and adults."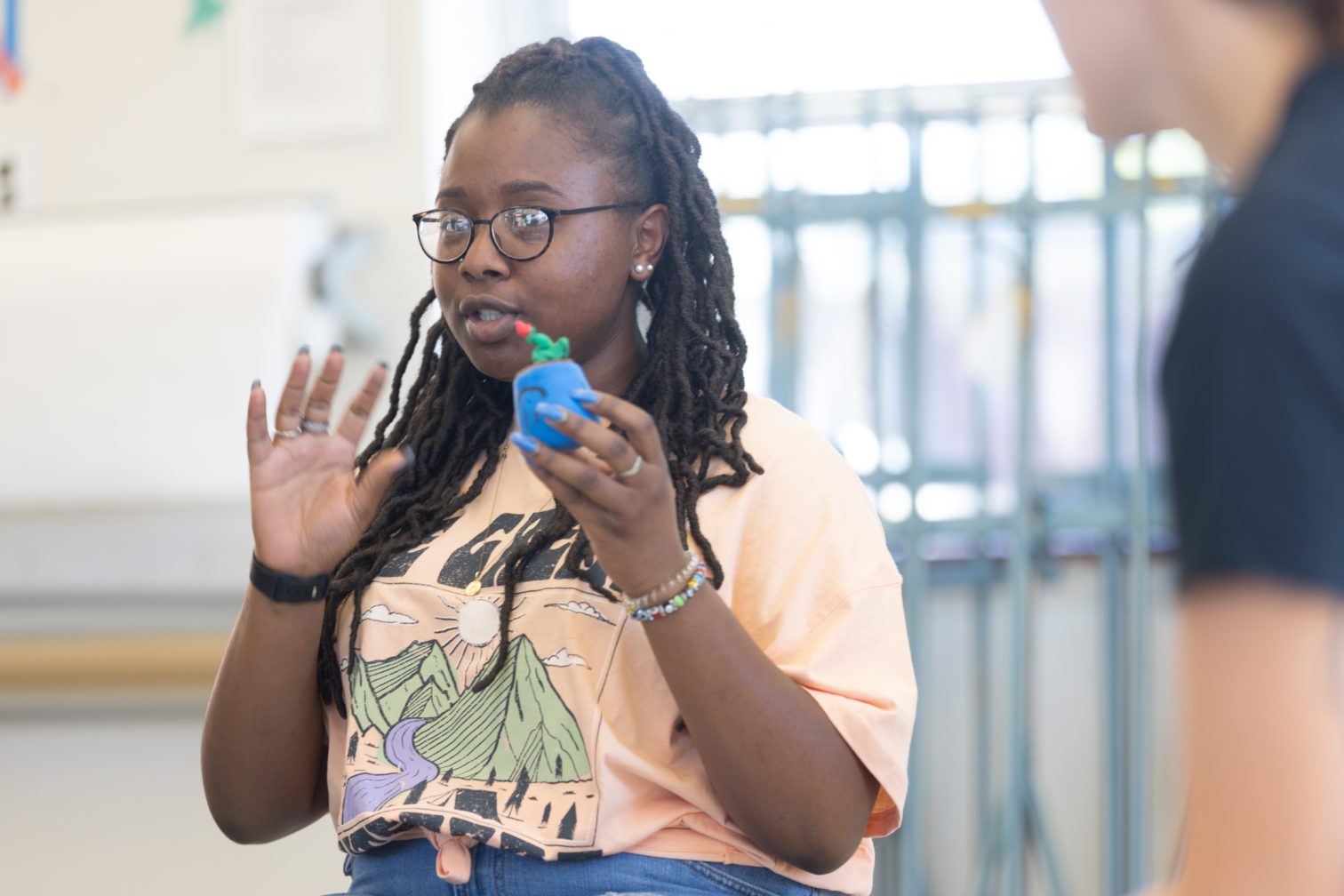 Career Options
A degree in art therapy will prepare you for graduate programs and/or paraprofessional careers. With a bachelor's degree, students can find work in roles such as:
Art Therapy Assistants
Recreation Therapists
Activities Therapists
Teacher's Aides
The art therapy degree prepares students for graduate study in:
Art Therapy
Counseling
Psychology
Social Work
Expressive Therapy
Our art therapy students intern and find full-time employment at many organizations, including:
ARC
Bristal Assisted Living
Music for Life
North Hudson Academy
Northwell Health
Venture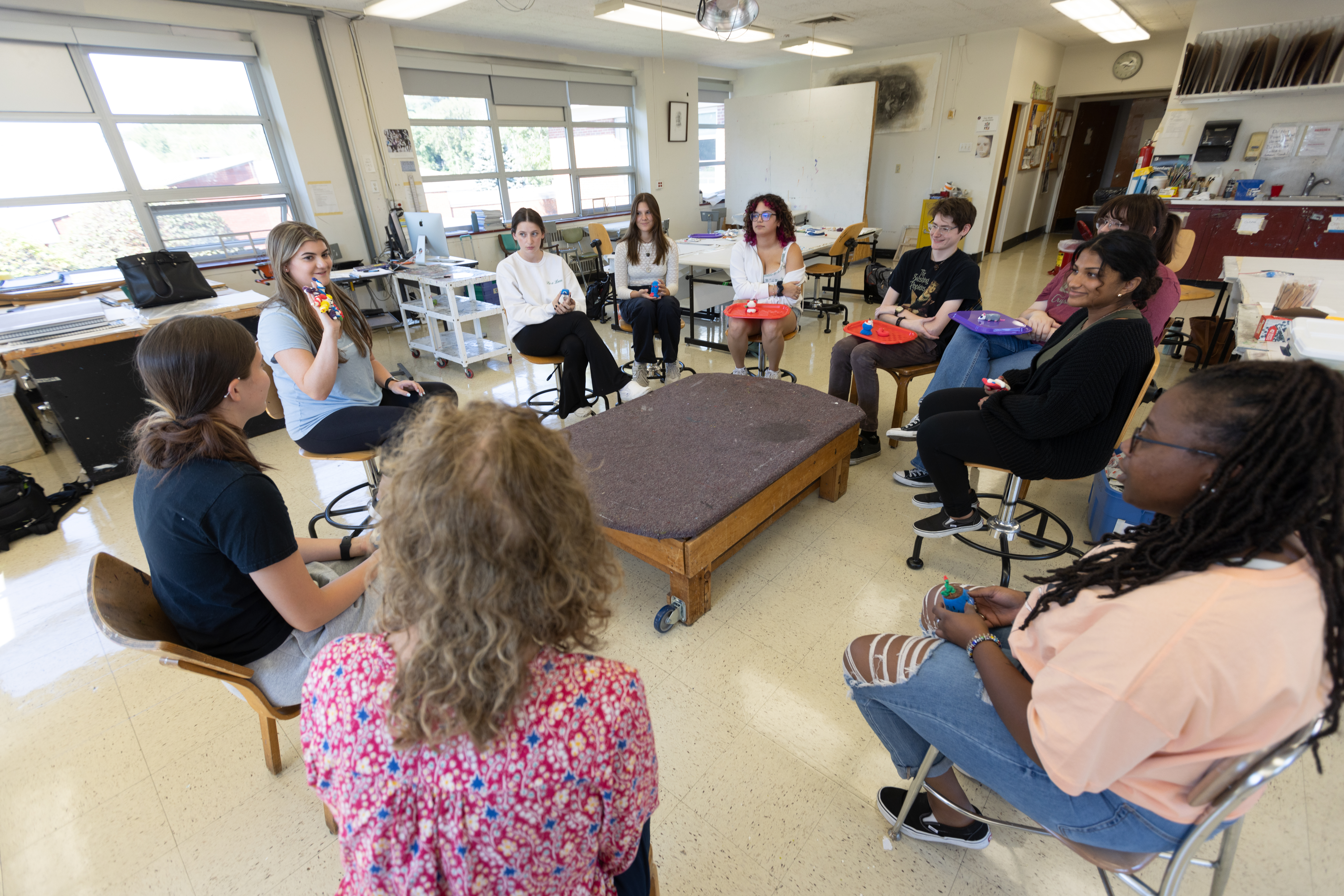 Program options
The BA in Art Therapy provides students with the opportunity to shape their artistic capabilities into a career of helping others and making a real difference, one person at a time. Personally guided by professionals in the field, you will discover your gifts, develop professional experience, and prepare for a rewarding and successful future.
A minor in art therapy hones your creative skills and your knowledge of the therapeutic impact the creative process can have on helping others navigate physical, emotional, and cognitive challenges.