Mathematics
Mathematics is essential to most facets of our modern lives. It gives us the tools and methods to study everything from the distribution of galaxies to the cycles of the stock market to the structure of musical compositions. It offers endless possibilities to create new technology and drive progress in space exploration, discovering cures for disease, and preserving the environment for future generations.
Ignite your analytical skills in the mathematics program at St. Thomas Aquinas College and open the door to unlimited career opportunities. The ability to tackle complex problems with precision and logic is a highly marketable skill in business, education, politics, science, technology, and nearly every industry. Learn from a faculty of experts who will guide you in tailoring the program to match your personal interests and set you up for success in any career you choose.
At a glance
Undergraduate major & minor
Concentrations in Applied Mathematics and Actuarial Science
BS
4 years
Main campus
Common Minors
Accounting
Computer Science
Economics
Finance
International Business
Management
Marketing
Physics
Only at St. Thomas Aquinas College

Ignite Your Career With Experiential Learning
Take advantage of many opportunities to build your résumé and explore diverse career possibilities. Our mathematics majors intern with many organizations on and off campus, including the Girls Exploring Mathematics Outreach Program, Pearl River Public Library Math Club, and summer STEAM camps. Gain hands-on experience at a summer internship opportunity such as those at a Research Experience for Undergraduates (REU), the National Security Agency, industry contacts such as Verizon and Goldman-Sachs, or many more. Our students also have many opportunities to work on research projects with faculty members and to present at local and national conferences, such as MAA Section Meetings, MAA MathFest, and the AMS Joint Mathematics Meetings.

Career Preparation & Mentoring
Small classes make a big difference to students at St. Thomas Aquinas College. Our faculty of esteemed scholars are also active researchers on the leading edge of the field. They will challenge you to achieve your full potential through your college years and beyond.
Featured Courses
Operations Research
Apply mathematical methods to real-world business decision making. Solve a real-world problem related to your career interests in an intensive semester-long project.
Linear Algebra
Learn the language of matrices. These powerful tools are behind the Google search engine, computer graphics, and economic forecasting.
Mathematical Research
Earn college credit for conducting research with a faculty member on many fascinating topics. Recent researchers have investigated the symmetries of a tesseract, the mathematics behind swarms, a statistical analysis of serial killers in America, and the creation of an interactive website on local COVID numbers.
What Success Looks Like
"One of my favorite aspects of my experience at St. Thomas Aquinas College is the relationship you get to build with your teachers throughout the class. You are not just a number and they actually know your name and who you are as a person."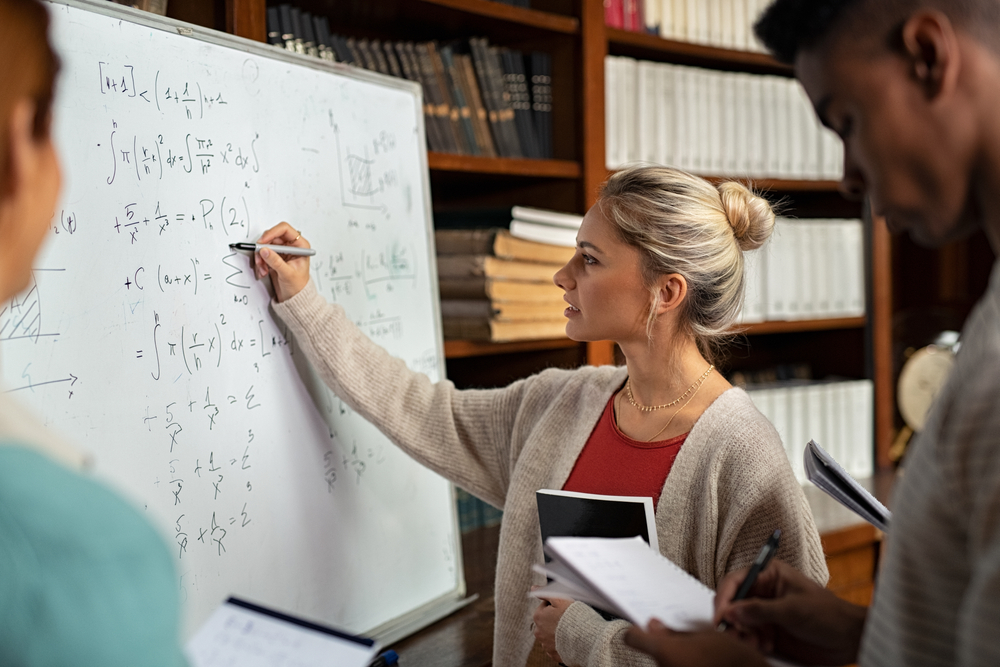 Career Options
A degree in mathematics will prepare you for graduate programs and careers in these roles and fields, and many more:
Mathematician
Actuary
Data Scientist
Operations Research
Finance
Engineering
Education
Research
Our mathematics students intern and find full-time employment at diverse organizations, including:
Verizon
Zurich Insurance
Willis Towers Watson
Pluralsight
Urban Science
Goldman Sachs
Federal Reserve
Arora Engineers
National Security Agency
Program options
The BS in Mathematics develops the technical and analytical skills to analyze and solve problems logically and masterfully. Because so many careers require this essential skill, a degree in mathematics provides the gateway to endless career opportunities in virtually every industry.
Interested in applying your aptitude for math to real-world problems in science, computer science, engineering, business or industry? Applied mathematics might be your field. Here, you'll take courses in calculus, statistics, discrete mathematics, operations research, numerical analysis, and physics and apply them to real-life situations, such as predicting the behavior of financial markets, explaining the risk factors of insuring a company, or building a bridge.
Actuaries assess the risk of an event occurring, and develop policies that help reduce costs associated with this event. To prepare for this lucrative career, you'll take courses in calculus, the mathematics of finance, and numerical analysis, as well as courses in accounting, economics and business.
A minor in mathematics is an excellent complement to many majors, from accounting and finance to computer science, physics, management, and more. 
Mathematics majors who wish to pursue a career in education can obtain certification as a classroom teacher (grades 7-12) through STAC's Adolescence Education program offered through the School of Education.