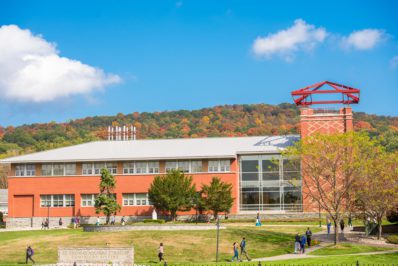 7:00 – 9:00 pm
Campus Tour
Visualize your future with us as a Spartan! The best way to see a college is to walk the path of a student for yourself….
The College's Financial Aid Office will help you create the most cost effective package available to you, but in the end, you should make the financial decisions about which aid tools to use to finance your education. Loans are forms of financial aid that must be paid back with interest to the lender over an extended period of time. There are different types of loans, some subsidized and some unsubsidized and the lender must be clear on which type of loan you are applying for at the time. To learn more about loans review All about Loans Reference Sheet.
---
The Federal Stafford Loan Program
This federal loan program is a direct lending program through the federal government. Students apply online and complete the loan process by complying with the steps outlined by the federal program. Available for students carrying at least 6 credits. All students must file a Free Application for Federal Student Aid (FAFSA) to determine eligibility. 
Student loan repayment is slated to resume in the coming months – follow these steps now to ensure you're prepared!
Review your budget now to work your student loan payments back in. View more tips here.
As you begin to communicate with your student loan servicer, keep in mind that they will provide you with free assistance; you should never pay an outside entity to help with your student loans! Review the full list of student loan servicers here.
Interest rates may vary depending on when loans were first taken, but no interest accrues while attending college if the student loan is a subsidized loan.
Subsidized Direct Loans do not require a credit check and there is a limit on how much a student can borrow in subsidized funds each year and cumulatively over their education. Graduate students, effective July 1, 2012, are not eligible to receive Subsidized Direct Loans. They can utilize the Unsubsidized and Parent Loan options.
Unsubsidized Direct Loans are for students who do wish to borrow above the unsubsidized loan limit. In this program, the interest accrues while the student is in college. Repayment starts six (6) months after graduation or withdrawal.
Students can visit the Direct Loan website for more information on eligibility and interest rates. Generally, interest rates are lower than other borrowing options. Visit the Direct Loan web site for more details. To make any loan amount changes after you have been approved for a specific amount, please complete a Loan Adjustment Form.
If you have any questions in regards to repayment or aggregate loan amounts:
---
federal Parent Loans for Undergraduate Students (PLUS)
This federal loan program is for parents of St. Thomas Aquinas College students carrying at least a half-time program. Parents may borrow up to cost of education less any financial aid. This is similar to a typical loan. The Parent must enter repayment of interest and principal within 60 days of disbursement date. Interest rates may vary depending on when loans were first taken. There is a deferment allowed under certain conditions. For more information on Parent PLUS loans:
---
Federal Direct Student Loan Forgiveness Program
The federal government provides for certain borrowers to be able to cancel their student loans during repayment. For more information, please visit the federal site to determine if you have eligibility. This will apply after you have graduated and are in repayment of your loans.
---
THE FEDERAL PERKINS LOAN PROGRAM
If you have any questions in regards to repayment, please visit the Heartland ECSI or call (888) 549-3274 for more information.
---