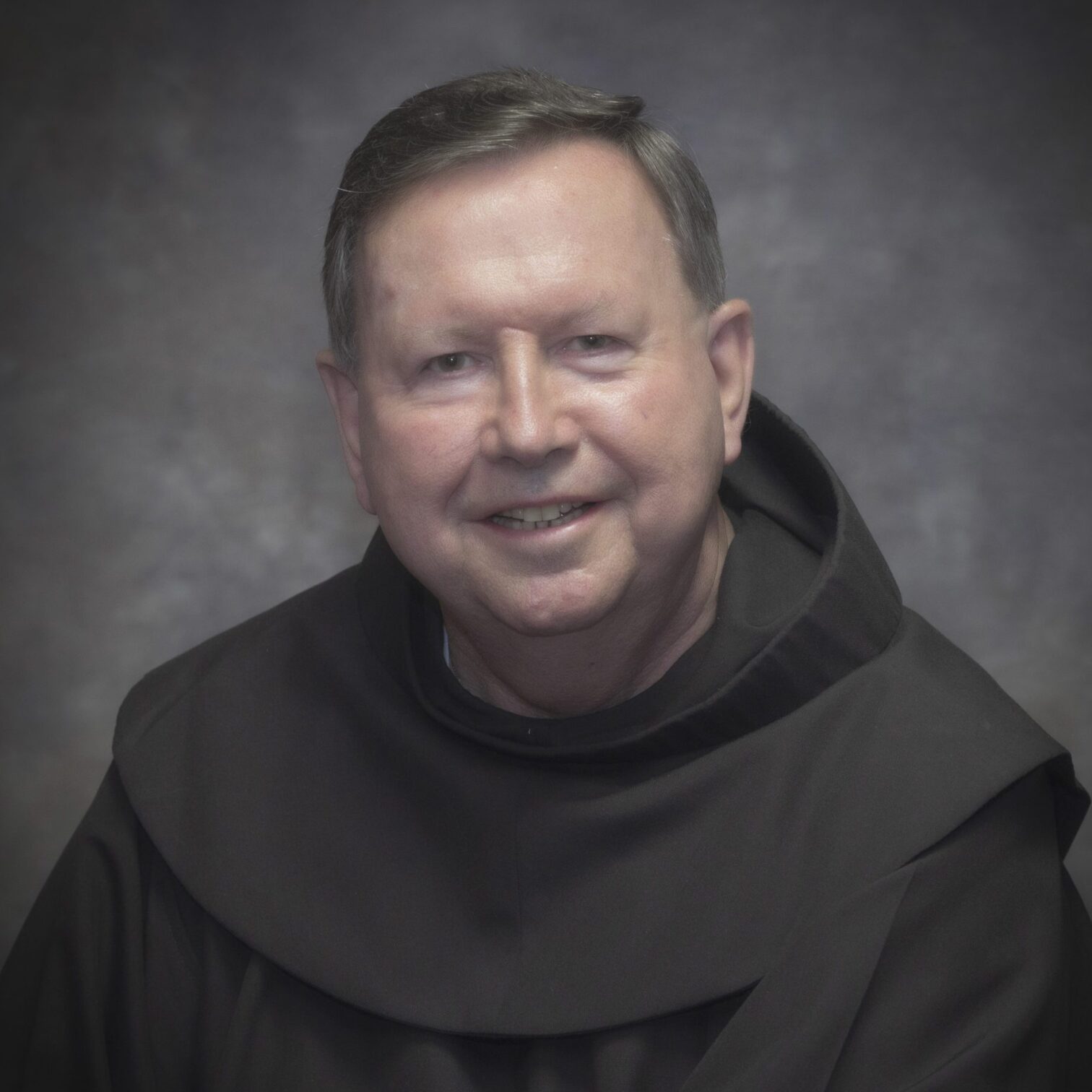 Br. Michael Harlan, O.F.M. is a native of Sparkill, New York and grew up in close proximity to his alma mater, St. Thomas Aquinas College. He is the second of seven children born to Cecelia and Edward Harlan. He is the proud uncle of nine nieces and nephews, as well as nine great nieces and great nephews. Michael attended schools in the South Orangetown Central School District, graduating from Tappan Zee High School in Orangeburg, N.Y. He earned a Bachelor of Science Degree in Business Administration (Marketing) at St Thomas Aquinas College and a Master of Arts in Pastoral Ministry from Boston College.
Following graduation from St. Thomas Aquinas College in 1978, Br. Michael worked as a sales representative for Hearst Advertising Service, Inc. in New York City, commuting each day from his home in Sparkill. During this time, he was an active member in his home parish, St. John the Baptist in Piermont, NY, which was an important place in his faith journey.
In 1981, Br. Michael decided to pursue a vocation to religious life and was accepted into the pre-novitiate formation program of the Franciscan Friars of Holy Name Province (NY), was assigned to St. Patrick's Friary in Buffalo, NY, and studied philosophy at Canisius College. Br. Michael was received into the novitiate formation program at St. Francis Friary, Brookline, MA, in June 1982. After completing the year of novitiate formation in June 1983, Br. Michael professed his first vows as a Franciscan, then was assigned to Holy Name College in Washington, DC, attending Washington Theological Union for theological and pastoral studies. In addition to his studies, Michael ministered with the elderly residents of Jeanne Jugan Residence (operated by the Little Sisters of the Poor) and served as a pastoral intern with the Office of Campus Ministry at Georgetown University.
In May 1985, Br. Michael was assigned to St. Mary's Church in Pompton Lakes, NJ, where he ministered as a pastoral associate and director of youth ministry. During the three years of fraternity and ministry at St. Mary's, he professed his final vows as a Franciscan. In June 1988, Br. Michael was assigned to St. Francis Retreat Center in Rye Beach, NH, where he ministered as administrative coordinator and retreat team member. In 1992, Br. Michael was appointed secretary to the Visitor General (a representative of the Minister General of the Order of Friars Minor), assisting with the visitation of all of the members of the province, while residing at Holy Name Church in Manhattan. In June 1993, Br. Michael was assigned to St. Anthony Shrine in Boston, MA, where he resided while pursuing graduate studies at Boston College. He also served in various ministries at the downtown service church and was the supervisor for young adults participating in the Franciscan Volunteer Ministry, a year-long service program among the poor.
In June 1996, Br. Michael was assigned to Siena College in Loudonville, NY, where he served with the Office of Student Affairs, as a member of campus ministry and the residence life staff. Br. Michael worked with a committee of faculty, staff and administrators that were instrumental in the founding of the Franciscan Center for Service and Advocacy, a program designed to link campus with the local community, providing various opportunities for direct service and advocacy among the poor and marginalized. Br. Michael was appointed the first director of the Center in June 1999. Through his leadership, Brother Michael worked to develop a vast network of relationships with many social service agencies and organizations in the Albany area and was able to provide a wide range of outreach and service-learning experiences for students.
Since June 2005, Br. Michael has served as Provincial Secretary for the Franciscan Friars of Holy Name Province, managing the operations of the Provincial headquarters in midtown Manhattan. He works closely with the Provincial leadership, supporting the life and ministry of over 250 friars and their local fraternities, serving in various ministries on the East Coast, in Puerto Rico, Cuba and overseas missions. Br. Michael is responsible for much of the correspondence of the province, with members of the Curia of the Order of Friars Minor in Rome, the various dioceses in the United States, as well as the local churches where the friars minister. He has organized
and prepared countless meetings of the Provincial leadership, ensuring the implementation of the decisions that have been approved. He has also planned, organized, and prepared for numerous fraternal gatherings and meetings of the membership of the province, including the triennial Provincial Chapter meeting. In addition, Br. Michael has served on the Board of Directors of several organizations, including Franciscan Volunteer Ministry, Inc., Franciscan Bread for the Poor, Inc., and The Dwelling Place of NY.
Br. Michael served as a member of the St. Thomas Aquinas College President's Council, from 2006 to 2017 and continues to be an active supporter and volunteer for STAC's annual benefit golf tournament. He was inducted into the STAC Alumni Hall of Fame in January 2008, the same year he celebrated his 25th anniversary of religious profession as a Franciscan. In honor of this special anniversary, he established a commemorative scholarship in his name, to assist students receive a quality and value-centered education at STAC. He joined the St. Thomas Aquinas College Board of Trustees in October 2016 and is currently in his second four-year term. He serves on the Campus Planning and Student Development Committees of the Board and is grateful for the wonderful opportunity to work with the STAC community and support the vision, mission, and values of the College.
This year, Br. Michael is celebrating his 40th anniversary of religious profession as a Franciscan and is extremely honored and humbled to receive the prestigious Founders Award from his alma mater, which recognizes the Dominican Sisters of Sparkill who founded the College in 1952, and commemorates the vision, courage, and faith of the Dominicans.