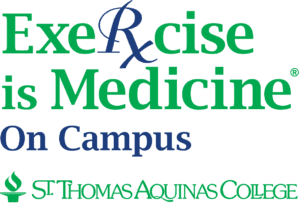 The Exercise is Medicine On Campus (EIM-OC) chapter at St. Thomas Aquinas College educates and promotes physical activity and healthy habits on campus.
Our goal is to create an inclusive campus environment that supports the overall well-being of students, faculty, and staff. This is based on St. Thomas Aquinas College's eight dimensions of wellness: physical, social, spiritual, emotional, environmental, vocational, intellectual, and financial.
EIM-OC partners with Student Health and Wellness, CAPS, Athletics, and the Department of Exercise Science to achieve the following goals:
Recognize physical activity as an important indicator of overall health.
Reduce barriers to physical activity.
Connect physical activity to healthy choices that promote holistic wellness.
Support individualized goals of improving overall health.
Meet the EIM-OC Leadership Team
Advisor : Kevin Nesbitt
Title: Vice President of Student Development and Dean of Students
Health Care Professional: Anne Walsh
Title: Director of Health and Wellness
Health Fitness Professional / Advisor Dr. Gabriel Martinez
Title: Assistant Professor of Exercise Science