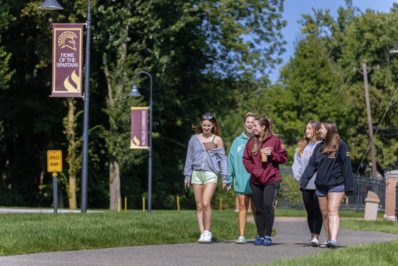 12:00 – 1:00 pm
Saturday Campus Tour
Visualize your future with us as a Spartan! The best way to see a college is to walk the path of a student for yourself. …
You've Got Questions. We've Got Answers.
You can request to live with up to 3 people when filling out your housing survey and paperwork. In order to be guaranteed to be placed with your desired roommates they must also request to be placed in the same room with you as well when filling out their housing paperwork. Selecting people to live with does not guarantee you any specific room just that you will be placed with those people.
Fall move in day for all Freshman rooming on campus is the Saturday before Labor Day. Welcome Weekend for Freshman begins that same Saturday right after move in! Upperclassman move in on Labor day. All information regarding move in will be mailed home.
Yes! Parking is free for all students (commuters and residents) in the Main Parking Lot (LOT F). All you need is a permit obtainable from the STAC Safety Office. Complete the STAC Parking Permit Form  to register your car with Campus Safety and receive your parking permit. New incoming students will receive information about this before they move onto campus each year.
Each residence hall room offers one bed, one col­lege-twin mattress, one desk, one desk chair, one dresser and one closet for each resident of that room. Students are expected to keep the furniture in their room during the year and maintain the furni­ture in good condition. Resident students will receive detailed information from the Office of Residence Life detailing what is and isn't allowed in the residence halls before they move-in.
Our entire campus, including the dorm rooms and main campus buildings, is Wi-Fi accessible therefore students can and are encouraged to bring a personal computer, laptop or tablet to aid in their studies and help them do work in and outside of the classroom. No worries if you cannot bring your own computer though – it is not a requirement and we have a fully functioning Computer Lab for student use. The computer lab is open every day and there are printing stations around campus for students to use.
No, laundry services are not provided on campus. However, each housing complex (McNelis Commons and Fitzpatrick Village) has a laundry room equipped with washers and dryers. These machines are operated by Spartan Card.
There is always something to do in the residence halls. The lounge, open every night until midnight, is a hub of social gatherings and programs. The Resident Assistant staff host programs every month ranging on a variety of topics from socialization to education. Check out our Events Calendar to see what's happening on campus or visit the Student Activities page to learn about opportunities to get involved.
No, there is not a curfew. The security gates that allow entrance into the residence hall areas close at 9pm each night and each resident is required to present their ID card allowing her or him entrance into the residence halls at any time.
In these instances a student should seek out a member of the Residence Life Staff. The Resident Assistants (RAs) are upper-class paraprofessionals who live on campus. They are accessible and should be the first person your student reaches out to. Furthermore, the Residence Life Professional (RLP) is the professional staff that lives in each area. Stu­dents can always seek out an RLP to report prob­lems in their room as well.
Yes! Each student has a access to a mailbox, assigned to them by their RA and located in the Lower Level of the RSAC by the Campus Ministry office, for small items such as magazines or letters. Larger items like packages and boxes can be picked up directly from our on campus mailroom. An example of how to address a mailing a letter or package to be sent to STAC:
Jane Doe
McNelis Commons 2L-2
125 Route 340
Sparkill, NY  10976
If you have more questions, please reach out to our Residence Life team.

Norman Huling
Associate Dean, Student Development; Director, Growth Task Force; Title IX Coordinator