Summer 2023 Literacy and Special Education Programs FOr Children
The St. Thomas Aquinas College Summer Literacy Program provides elementary and middle school students in need of extra support with the necessary skills to be strategic and joyful readers and writers. Students work in small groups or individually with certified teachers currently completing their master's degrees in Literacy or Special Education. The program is supervised by the School of Education faculty.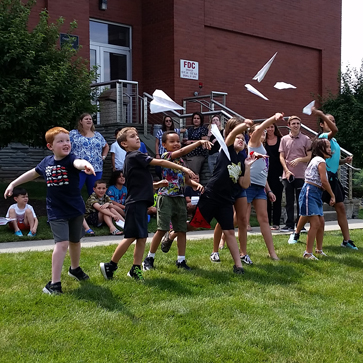 Students with and without IEPs are taught in an inclusive, engaging learning environment that allows for individualized instruction as well as interactive group activities. Teachers develop and implement instructional plans for each child based on the assessment of academic needs and provide parents with suggestions for ongoing support.
For more than 20 years, we have successfully supported young literacy learners. We look forward to continuing that success in the summer of 2023!
SCHEDULE FOR 2023
Children attend half-day sessions in the morning, 9:00 am-12:00 pm.
Literacy and Special Education Program
June 27, 28, & 29
BREAK for 4th of July Weekend–June 30, July 3, 4, & 5
July 6-28 Monday through Friday
HOw to Apply
*Registration is currently full. Please contact Paula Hughes at 845-398-4150 or phughes@stac.edu with any questions. 
Families must complete and submit all parts of the application. In addition, the child's teacher(s) must complete the application. All applications must be submitted by May 15, 2023. Families will receive notice about acceptance into the program by June 15. Due to limited space, we may not be able to accept all applicants into the program.
A non-refundable fee of $200 is required when a child is accepted into the program. Please make checks payable to St. Thomas Aquinas College. The program takes place on the campus of St. Thomas Aquinas College. Parents are responsible for transportation to and from the program. Families will receive additional information about the schedule and specific location with the college upon acceptance into the program.
For further information, please phone Mrs. Paula Hughes, Graduate Education Program Office Assistant, at 845-398-4150, Monday through Friday, 9:00am-4:00pm.
PLEASE NOTE: If your child is accepted to the program and you take your child on vacation during July, you will not only disrupt the momentum and therefore, the effectiveness of the tutoring for your child, but you will jeopardize the tutor's degree. Do not register for the program unless you have every intention of having your child participate throughout the month of July. Thank you for considering the needs of everyone involved.
If your child is accepted into the program and you decide not to enroll, please notify the Graduate Education Program secretary immediately (845-398-4150) or you will not be permitted to apply in future years.